i2cat at a glance
i2CAT at a glance
i2CAT is a Research and Innovation Centre which promotes R+D+I activities in Internet Technologies within the ICT Industry. The Centre has vast experience in multiple national and international R+D+i projects, leading the introduction and integration of ICT and Internet technologies into the main economic sectors (Health, Education, Culture, Industry, Media, ICT) with the aim to improve business competitiveness and citizen welfare.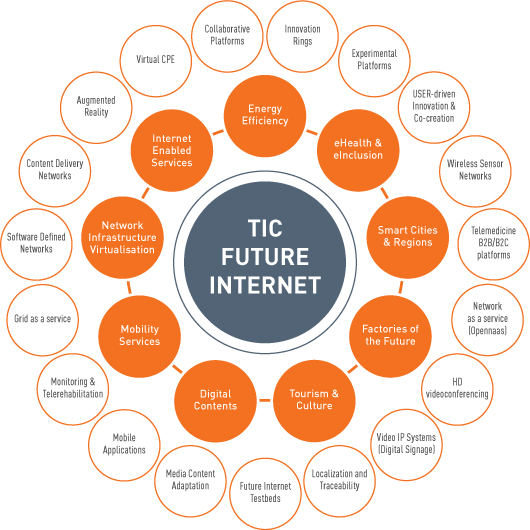 Vision
"Excellence in Internet"
The vision of i2CAT is to achieve excellence in Research and Innovation in the field of Internet Technologies and become an International key partner to lead the implementation of Internet in the main economic, industrial and social sectors.
Mission
The strategic goals of i2CAT are:
To generate Research and Innovation activities according to the market needs by developing new value-added products and encouraging the creation of new technology-based start-ups which generate social and economic impact.
To facilitate collaboration between companies, public administration, universities and users in order to deploy new advanced experimental infrastructures.
To enhance companies competitiveness through innovation and technology transfer.
To stand up for local development through international networking.
The i2CAT model is based on the following key pillars:
Integrating research and innovation.
Fostering co-creation in a quadruple helix model (university, company, public administration and users).
Carrying out activities both in international and local environments.
Providing infrastructures and advanced experimental platforms, such as the "Industrial Ring" or the "Experimenta Network".
How can we collaborate?
MATCHING TECHNOLOGY AND MARKET OPPORTUNITIES
Transforming technologies and R&D results into value for companies
Developing market-oriented technology apps
Adapting technologies to new markets
PROVIDING SOLUTIONS TO INDUSTRY NEEDS
Meeting technological business requirements
Implementing proofs of concept
Deploying validation and experimental platforms
Technical cooperation with SMEs
Leveraging expertise from research activities
FOSTERING COLLABORATION AND NETWORKING
Managing multidisciplinary contacts and companies to identify technology trends and market opportunities
Encouraging technological cooperation between companies to reach global markets
Promoting open Innovation as one of the keys to business success
Taking advantage of international research partners to start new business partnerships