Technological Report
Distributed Applications and Networks (DANA)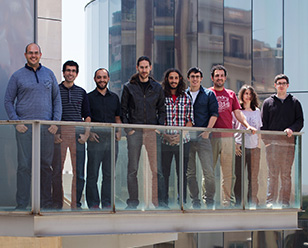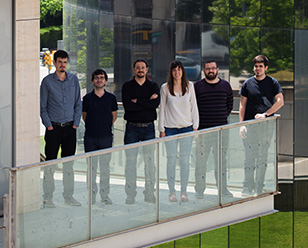 DIRECTOR
Joan Antoni García-Espín
TEAM
Eduard Escalona, Eduard Grasa, Albert Vico, Georg Mansky-Kummert, Miquel Tarzán, Leonardo Bergesio, Bernat Gastón, Jordi Ferrer, José Aznar, Iris Bueno, Josep Batallé, Carolina Fernández, Carlos Bermudo, Óscar Moya, Isart Canyamares, Adrián Rosselló, Josep Pons, Tanya Dobreva, Julio Barrera, Daniel Guija, Sergi Vidiella, Carles Bock.
Area description
The Distributed Applications and Networks Area at i2CAT is an R&D and Innovation area comprising an outstanding team of researchers coming from a variety of technical disciplines, either from the field of Telecommunication Engineering, Computer Science or Physics.
DANA activities are centred around three R&D lines, namely Infrastructure Control and Management (ICM), Recursive Inter-Network Architectures (RINA) and Future Internet Testbeds (FIT). Moreover, DANA has a Professional Services line to liaise with ICT sector stakeholders on a one-to-one basis, with a special focus on SMEs. Therefore, DANA develops technology based on the creation of new solutions and services to meet the challenging needs of the ICT sector in the Future Internet. In detail, DANA is focused on those technology domains that require cutting edge telecom infrastructure systems to support the management and operation of converged networks, new services and applications.
In parallel, and as a result of internal strategy, DANA has featured and promoted a wide range of activities and international partnerships, especially in European projects. This approach for international presence has allowed DANA researchers to consolidate their level of expertise and achieve an even higher level of impact in the R&D and Innovation community, both in the public and private scientific communities and in the telecommunications industry.
In the long term, the strategy of DANA is focused on developing its R&D lines and incorporating added value from innovation in order to mature and exploit internal assets and strengthen private partnership collaboration using an Open Innovation paradigm.
Research Lines
Market Approach
During 2013, the Professional Services team has strengthened the cooperation with Juniper Networks Ireland, participating in the development of the DetNAT project, providing maintenance and the implementation of additional functionalities. The team has also collaborated with Quantech, in the implementation of the GaaS platform, a Grid as a Service platform that enables clients of cloud services to consume these services using an application specific, simplified API. The platform chooses the best provider given the client's request and mediates between the client and the cloud provider.
RINA is not close to the market yet, but the RINA research line is already building a network of complementary partners to maximise the impact of RINA-based products in the mid/long term. The initial markets where RINA is more likely to be adopted are identified in section 4.4.3.
Boston University – Research and standardisation of RINA specifications.
TRIA Network Systems - Interoperability of RINA prototype implementations, joint design, implementation and experimentation activities.
Nextworks – Joint development of the IRATI prototype, strategic partnership for future product development.
WIT-TSSG – Cooperation on RINA research and development activities, specifically focused on Distributed Network Management Systems for RINA.
Martin Geddes consulting – Collaboration on promoting RINA and making the distributed computing community more aware of its potential.
Predictable Network Solutions – Collaboration on investigating the potential of delta-Q inspired policies for resource allocation within RINA DIFs
In the ICT sector, especially regarding Data Centre, DC networking and convergent cloud platforms are the target market for FIT developments. In particular, FIT team has developed a strong cooperation relationship with the following institutions:
B-ISDN (DE) – OpenFlow experimentation and open hardware + SDN research
EICT (DE) – OpenFlow and SDN experimentation, as well as SDN federation
AIST (JP) – International federation of experimentation facilities on SDN and NSI
Create-net (IT) – Showcasing experimentation tools for networking systems
Nextworks (IT) – Showcasing experimentation tools for cloud systems
University of Hungary (HU) – Research on application of network coding to SDN
EXUS (GR) – Integration of cloud and network services
Atos Spain (SP) – Integration of cloud and network services
University of the Basque Country (SP) – Interconnection and experimentation on TaaS
RedIRIS (SP) – Support for experimentation on TaaS and Géant
PSNC (PL) – International experimentation over FIRE
iMinds (BE) – International experimentation over FIRE
RNP (BR) – International setup of converged SDN experimentation facilities with Brazil
CPqD (BR) – International setup of converged SDN experimentation facilities with Brazil